Feeling excited? Me too!
If you missed the first two notes with the important principles of growing an online business, be sure to read day one and day two so that you're all caught up!
Today I wanted to share one final principle with you. It's a mindset shift that will benefit you immensely as you build your online business.
Rather than thinking about building followers, think about building community.
So many people ask me about how I got such a big following online. The truth is that I don't think of people as followers, but as a community of like-minded people who share common interests.
Think of your neighborhood or church or some other, in-person community you belong to.
You can probably list half a dozen things that you all have in common. Family, kids, interests, location, age, etc.
When you deeply understand your community it becomes easier to find more people like those already in it. You can better speak their language, you know what their wants and needs are and how to serve them.
Given the opportunity, would you rather have 1 Million random, disconnected people "following" you online, or a few thousand incredibly engaged, like-minded people who are all connected and love being a part of the community you created?
I'd take the latter, and not just for business reasons. Because it's FUN!
So, take these three principles – Do more of what works and less of what doesn't, find and learn from a mentor to shortcut your road to success, and build a community not just a following – and use them to grow your business.
I've used these principles (and many more) to provide for my family, and grow multiple businesses over the last decade.
But you might be thinking, "I don't know how! I don't know who would be a good mentor! What does building a community look like on a day to day basis?"
Well, that's why I'm so EXCITED right now!
Over the last few months I've been working on a way to mentor ALL of you, but in a condensed, self-paced way that works for you and your schedules.
Not everyone can fly out to (or make time for) a conference, not everyone can commit to monthly coaching, and I don't have the ability to work with thousands of people one-on-one.
But a perfect opportunity came up to create…
An online course!
It has been an amazing experience taking EVERYTHING I know about building an online business, growing social media followings, and making money selling products online.
This course is the answer to the dozens of questions I get every day on "how did you do it?"
And, because there is just SO much I wanted to teach you, there are actually THREE COURSES available, so that no matter where you are on your journey, I can meet you there and help you take the next steps.
The response so far with a few of my students has been incredible:
"If you have been burned like I have in the past of those high dollar courses that end up being either confusing and unorganized or all smoke and mirrors around 2 minutes of actual info, then you need to work with Holly.  She is the real deal and truly wants you to succeed." – Michelle
"She understands exactly what captures the attention (and devotion!) of your audience so you can actually make money from blogging." – Tina
"I saw results…within a week of doing changes and I continue to see those changes." – Cassie
"…she made it so simple and she talked like me so I got it all and was able to immediately implement AND see results…" – Dian
And the courses literally teach you everything I know. Just look at the course curriculum: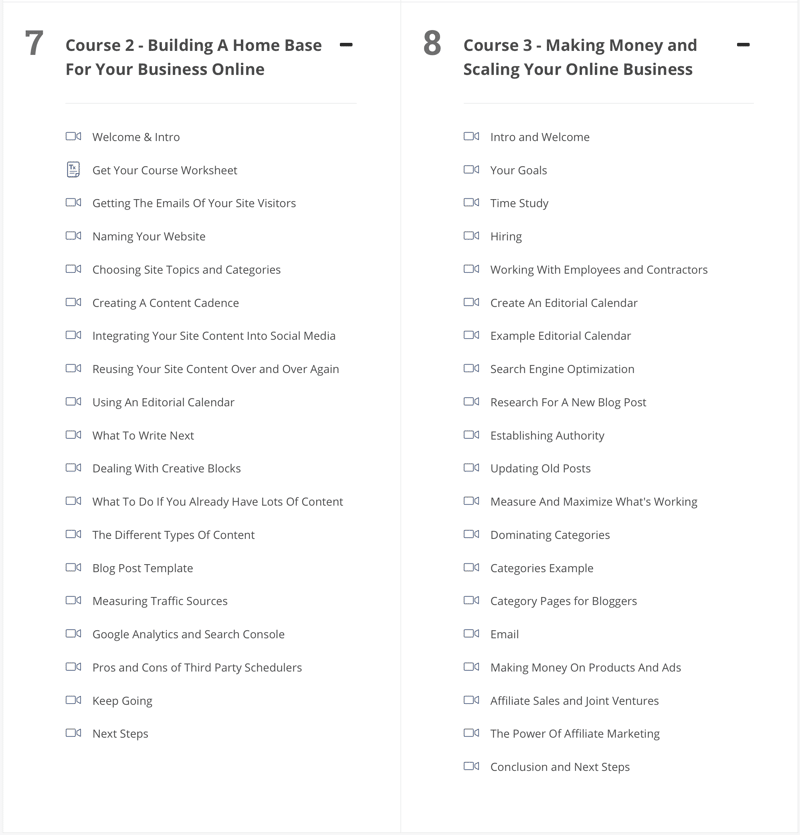 Alright, enough chit chat. You can enroll in the course now, and get instant access to everything – course videos, workbooks, and a dedicated community of students on the same journey as you're on.
I can't wait for this opportunity to mentor you and help you grow your business.
I'll see you there!
Holly